Not one of those people who is consistently the life of the party, nor the kind of person who needs to be the centre of attention. I'm the person you'll feel inspired around, with an infectious energy, but sometimes need long gaps between visits. And here's an even bigger truth. I'm O.K with it.
Thing is; in a World of websites, social media, branding and voyeuristic tendencies I kinda enjoy moments of fading into the background. And for me, travel is exactly that. It is here where I feel most honest; truly free.
For the first 25 odd countries travelled I took in new cultures, saw beautiful sights, ticked off a silent bucket list and made memories. Experiences I am incredibly grateful for. But it was only once I travelled to Nepal that freedom seemed to click into place.
Nepal was a trip that I decided to visit, booked and left for, all in fewer than 5 days. Once returning there seemed a common reaction of people who learnt I'd travelled alone. Inspired? Shocked? Proud? Envious? Curious? What I did without so much as a second thought, for many others was unimaginable, much less achievable. My fearless attitude to this short life is perhaps not as common as first thought.
And so www.alexchasingdreams.com was born.
It is my dream that through these experiences as a fearless, female trotting the earth and exploring it's majestic beauty, that others too will feel encouraged to explore the unknown. Weather as the life of the party or fading into the background like me;
Travel fearlessly, live freely.
Services
I specialise in all things out of the ordinary!
Recommended Destinations
Nepal
Cambodia
Vietnam
India
Sri Lanka
South America
Special Interests
Yoga Retreats
Health & Wellness Travel
Amazing honeymoons
The intrepid traveller
New Zealand
Australia
Cambodia
Egypt
Thailand
Vietnam
Fiji
Turkey
Morocco
Poland
Malta
Holland
Germany
England
Ireland
Sardinia
Bali
Singapore
Sri Lanka
Wales
Scotland
Hawaii
U.S.A
India
Nepal
Lombok
France
Mexico
Italy
Peru
Spain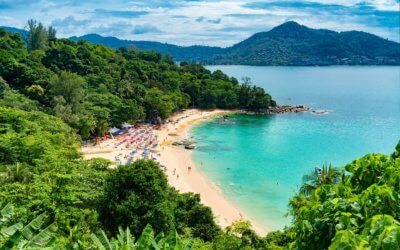 You can guarantee you're set for a fantastic holiday if you are planning on a trip to Thailand. Warm climates, welcoming locals, genuine hospitality and low budget travel make this a destination to not only love, but return to time and again. Tourism has been going...
read more
Locate a Personal Travel Manager