Did you know that Sri Lanka is a fantastic destination to visit wildlife parks? Managed by the Department of Wildlife Conservation (originally established to abolish poaching in the 1800's), the department is dedicated to providing natural, and protected, environments for wild animals. We think Sri Lanka's wildlife parks are fabulous for the entire family.
There are 2 main Wildlife reserves – Yala National Park and Udawalawe National Park. Subtle differences to each park mean that travellers experience a broad range of animals across both. A Udawalawe National Park safari will see visitors enjoy one of the largest wild elephant populations, but there are plenty more animals to witness here too.
The reserve covers more than 30,000 hectares of land and was originally created in 1972 to assist animals who were displaced by the Udawalwe Reservoir on the Walawe River.  There's a safari feel under the heat of the beating sun, and the dry red dirt roads winding through the parkland, but you won't see lions or giraffes here.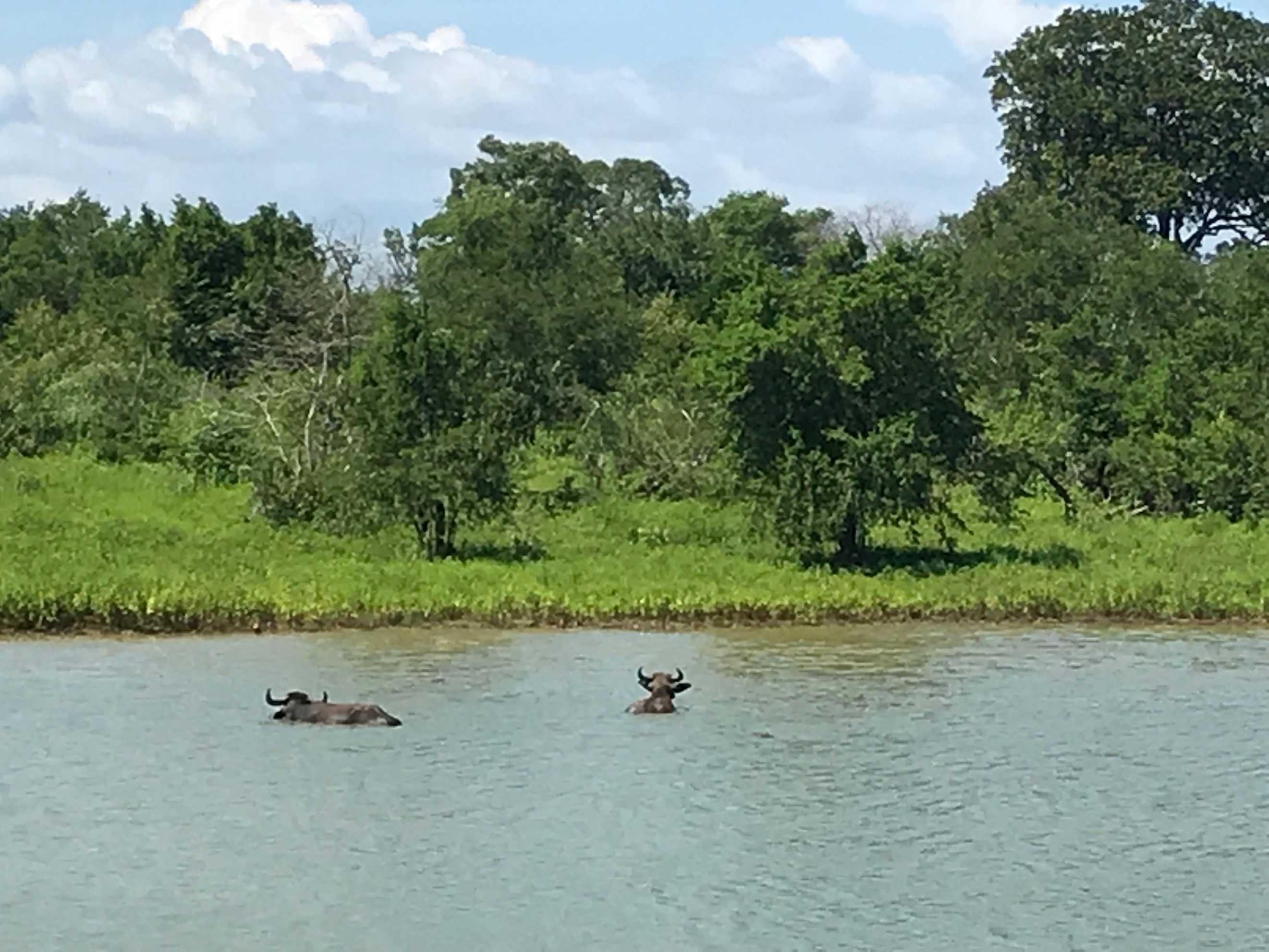 Expect to see water buffalo cooling off in the head of a murky pond with alligators circulating in a true testament of the circle of life. Wild elephants – some with infants – wander by visitors within arm's reach. Mongoose, eagle, owl, monitor lizards, rare bird species can all be seen at Udawalawe National Park.
Your Udawalawe National Park safari experience begins with a jeep, driver, and spotter. This is either pre-purchased with your travel gent in your home country, or at the park entrance alongside ticket purchase. Options are available for your own jeep, driver and spotter, or to ride with other visitors. You'll be seated in the back of an open roof and sided jeep which is ideal for the uneven terrain encountered throughout the park. The drivers clearly have a great deal of experience navigating the track as some areas are certainly 4WDing.
The spotter's job is to ensure visitors view as much wildlife as possible, and boy can they see things that you may not notice otherwise! It's not uncommon to be riding along, enjoying the sights when out of nowhere the spotter signals the driver to stop and divert toward a fascinating species of wildlife hidden among foliage.
By contrast to many animal shows, 'orphanages' and parks throughout Asia, a Udawalawe National Park safari is an experience that showcases an environment where animals roam freely, yet have the advantage of care at hand in case it is needed. Animals are free to enjoy their natural habitat, while visitors are free to enjoy noticing animals as they perform in their natural state.
For a 4 hour safari experience visitors can be sure to see plenty of animals. We recommend setting off as early in the morning as possible to avoid too much of the suns heat in the afternoon. Plus, animals tend to be more active during cooler temperatures so you will more likely observe animals foraging for food or roaming, whereas in the intense heat they may prefer to sleep in a shady spot.
Udawalawe National Park is approximately 4.5 hours drive from Colombo, just 45km from the stunning small town, Ella, and 1.5hours from the seaside area, Tangalle. No need to make a Udawalawe National Park safari a rushed experience; there's a village with plenty of accommodation and local cuisine available at Udawalawe too.
Udawalawe National Park is a must visit for a Sri Lankan holiday.
 Words by: chasingdreamstravel.co.nz
@chasingdreamstravelnz