Hawaii is the kind of holiday that's suitable for the whole family. On the main Island (Oahu), Waikiki is a popular tourist destination and features beginner waves for learning to surf, snorkelling and swimming beaches, Pearl Harbour museum, sky rise hotels, and of course plenty of shopping and entertainment. But an hour North of Waikiki is Turtle Bay which is somewhere every Hawaii holiday should include for a minimum of 4 nights.
The north Shore of Oahu is quieter and more relaxed than the exciting bustle of Waikiki. It takes an hour to drive here from Waikiki, passing along a scenic coastline with lush green hills and jungles on the adjacent side. The region is most famous for big wave surfing (think Sunset Beach and Pipeline), swimming and snorkelling beaches, but you won't find sky rise hotels or shopping malls here.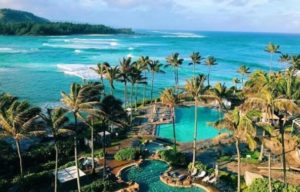 Turtle Bay Resort is the one and only commercial resort in the region and contributes to a truly enjoyable holiday. Three words sum the resort up: Location, location, location.
The resort sits on a point with two exquisite bays on each side. On the Western side is Turtle Bay. A longer stretch of surf beach (maybe 1-2km long) with walking trail alongside the beach. Perfect for surfers, runners and walkers. There' s a gold course here too, which is available for resort users.
On the Eastern Side is Kuilima Cove which is a small sandy beach sheltered from the wind and enclosed for snorkelling and swimming. It's the kind of beach you'll want to perch at for the length of the day reading a book, snorkelling and swimming. The beach has golden sand, the ocean is clear, and it's a great spot for families and children.
The rooms at Turtle Bay Resort come with snorkelling sets because stepping down from the resort to Kuilima Cove for snorkel with turtles is all part of the fun!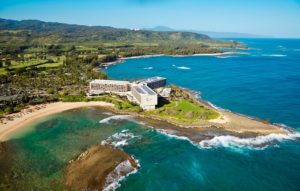 To the West of the resort, between rooms and ocean is a large pool and hot tubs; Perfect for bathing while watching the surfers, or sitting poolside at sunset enjoying a cocktail. One of the major benefits of Turtle Bay Resort are all the activities available. Kayaks, bikes, stand up paddle boards, surf lessons, and an extensive group exercise timetable at just $15 for resort guests. That's a holiday advantage for the active traveller; take part in pilates, yoga or HIIT sessions in the morning at the resort, before spending a day at the beach!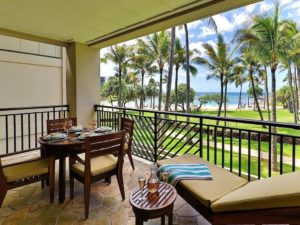 It can be hard to leave the resort – it literally has everything you need of a Hawaiian holiday without being bound to a hotel room – but near by are two famous sights to check out. Sunset Beach and Pipeline are approximately 5km &7k from Turtle Bay Resort respectively and this is where all the famous big wave action happens. Annually the World Surf League hosts a competition here in December, and numerous surf brands and sponsored surfers have houses in this area. The reason being; the waves are huge! These are not the kind of beaches to swim at – in fact signs caution people from swimming or surfing pipeline– but they are beaches which have been integral to World surfing and interesting to learn where so much of the World surfing phenomenon occurs.
Turtle Bay Resort for us, is a one stop holiday experience. The place to base yourself for a Northern Oahu experience with all that is needed to enjoy relaxing, beach life, and staying active too.
Words by: alexchasingdreams.com
@alexchasingdreams