Here is your go-to Sydney shopping guide
Whether you're planning a long stopover or a short one in one of Australia's most prestigious cities, shopping should be on the agenda somewhere. Sydney is packed with shopping variety from famous high street brands to Australian owned surf stores, delightful boutiques and quality markets; Sydney is a shopper's paradise.
Sydney Shopping Guide: Two Standout Malls
There are loads of malls in Sydney and while malls don't tend to be the most unique shopping experiences, there are two malls in Sydney that stand out from the pack.
Westfield Bondi Junction is conveniently located at the Bondi Junction train station and was rebuilt in 2004. Comprising of two magnificent towers, Westfield Bondi junction is spectacular.
Make no mistake, this is not your ordinary Westfield. Taking 4 years to build the mall boasts 2 specific sectors styles – the West Tower houses luxury stores such as Chanel and Yves Saint Laurent while the East Tower is home to high street brands like H&M, Country Road and a selection of Australia's trademark surf stores. Connecting the two towers is a glass pedestrian bridge adding to the sophistication, sense of style and class that is noticed during a day of shopping here. There are 500 stores in the complex in total.
The North Sydney equivalent to Westfield Bondi Junction is Westfield Warringah. Although only having a total of 388 stores, what Warringah lacks in volume compared with Westfield Bondi Junction, is more than made up with in atmosphere.
Most of Warringah's appeal comes from being a predominantly open rooved mall which is decorated with live plants and shrubbery; perfect for enjoying the warm Australian climates during a day of shopping.
Shops at Westfield Warringah include all the usual Australian retailers – David Jones, Kookai and Tiger Lily – however the experience is akin to shopping in a seaside city. Peaceful, relaxing and ultimately enjoyable. 
Sydney Shopping Guide: Unique Shopping Streets
Once upon a time Oxford Street in Sydney's Paddington suburb was lined with elite shops to peruse, and while there are plenty left to explore, Oxford St has changed in recent years. This is your shopping street to head to (walking East from Elizabeth Street) if you enjoy bouts of shopping between sipping lattes street side. A selection of home-wares and fashion designers can be found between the odd nail boutique and masseuse.
Gould Street at Bondi Beach is a must visit for those who enjoy one off pieces. Located just one street back from the famous beach front, you'll find just a handful of stores but each will certainly impress. Jatali, Tuchuzy and Museum have been Bondi institutes for years and although prices can be steep, this is fashion shopping to a tee. Enjoy the experience in little more than a bikini if you've enjoy a swim first, or dressed to the 9's before cocktails at Ravesis.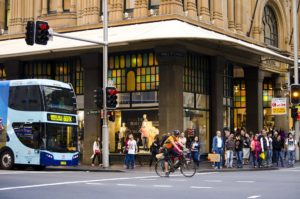 Sydney Shopping Guide: Sydney Markets
Sydney does a great market and there are 3 on the weekly schedule that won't disappoint. Glebe Market runs on Saturdays in the eclectic suburb of Glebe. Here you'll find boho, hippy style among South American and Asia influenced homewares. A grass patch adjoining the market always has a musician playing, which makes the perfect addition for a strangely tranquil element to an otherwise central part of the city.
Paddington Market runs on Saturdays and is a more upmarket affair. Held at a school ground on the main street, you'll find quality home-made crafts, foods and clothing. A perfect market for finding a few gifts to take home to family at the end of your travels.
Bondi Market on a Sunday, during the Summer months is unbeatable. Here you'll be shoulder to shoulder with locals and travellers looking to get their hand on one off pieces, boutique clothing, and start up business ideas. Clothing and jewellery are the real charms of the Bondi market with many items fetching price tags expected in stores, but when items are that good, it's hard to resist!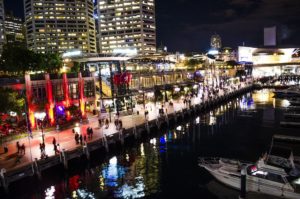 Sydney Shopping Guide: Sydney Central
Just a short walk from Darling Harbour, The Rocks and the famous Sydney Opera House is also Sydney's central shopping precinct. Perfect for the traveller who needs to remain close to the airport, Pitt Street Mall is a pedestrian access only street with all the major high street brands, between street entertainers and buskers. The convenience of Pitt Street makes it easy to forget the city noise and sky scrapers but if you're shopping here be sure to walk a little further to The Galleries and Queen Victoria Building.
QVB is the most famous of the two, which are directly across the road form one another. Built in the 1800's, QVB is an exquisite building with beautiful stained glass windows and tiled walkways. Inside you'll find both luxury and high street stores with underground access to Pitt Street mall.