I have been creating dream holidays for 14 years now, many of my customers I am now lucky enough to call good friends. I believe this is because I am honest and reliable. I listen and truly put in the effort to make sure every want is achieved for my customer at great value for money! From Pacific Island Family Holidays, Australia and New Zealand, extensive European itineraries to American Road trips, Exotic Honeymoons, Cruises, Leisure Travel and Business Travel, utilising planes, Trains, Coaches, cars, Worldwide Hotels, B&B's even Castles! and Travel Insurance. I am a dedicated Travel Specialist who can help you with every aspect of your holiday. Give me a call or email and let me show you the difference I can make to your next holiday!
My passion for travel started when I lived in the UK and realised that there is so much to learn from putting myself out into the world. I love learning about how people all around the world live their lives……what they eat, how they work, their customs, traditions and religious beliefs. It is a privilege awarded to few so I intend to make the most of every travel opportunity that comes my way!
Services
Flights – you have to get there somehow!
Accommodation – B&B's, homestays, retreats, villas, hotels, luxury resorts and lodges
Guided tour holidays
Safaris
Cruising
Train journeys
Rental cars or leasing
Sightseeing and unique experiences
Leisure and business travel
Travel insurance
Visa assistance
Recommended Destinations
The highlight of my travel experiences so far………expedition cruising in Alaska, on a small ship you can really experience the rugged wilderness of this stunning and vastly untouched place.
Close encounters with wildlife, glaciers shearing off into the icy waters and the uplifting rush of the cold air on your face as you kayak amongst it all is exhilarating.
Japan is my other place of interest. I have only scratched the surface of this fascinating country with the hustle and bustle of Tokyo, what a thrill!
I can't wait to go back and explore the countryside and learn about the age old culture and traditions.
Special Interests
From adventurous activities such as night snorkelling with the manta rays in Hawaii or swimming with the Whale sharks in Mexico, to road tripping in the US, exploring European treasures to Yoga retreats in the rejuvenating valleys and rice fields of Bali, there isn't much I haven't done or wouldn't give a try!
Argentina
Australia
Brazil
Canada
Chile
Croatia
Greece
Indonesia
Italy
Japan
Macau
New Caledonia
New Zealand
Peru
South Africa
Thailand
United Kingdom
United States
Vatican City
Hong Kong
Fiji
Niue
Singapore
New Caledonia
Cook Islands
Turkey
Spain
Mexico
United States
Cuba
Sri Lanka
France
French Polynesia
Netherlands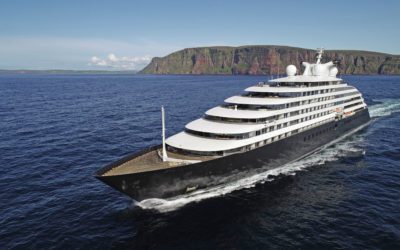 We are excited to announce the launch of the new 2023/24 Worldwide Discovery Voyages and PLUS Scenic Eclipse II will sail into New Zealand waters for the very first time in summer 2024/25, register now! The Scenic Eclipse fleet sets the standard in ocean cruising in...
read more
Haven't found the right fit?